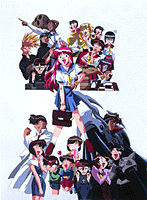 Nuku Nuku TV News
Here you can learn about the recent Bannou Bunka Neko Musume anime TV series, the Bannou Bunka Neko Musume DASH! OAV series, and more. The title, commonly abbreviated as Banneko, translates to "Almighty Cultural Cat Girl". The star of the anime is everyone's favorite android with a cat's brain and a girl's body, Nuku Nuku.
March 1, 1999
New Manga Born
Today the collected volume of the new Nuku Nuku manga series, Shin Bannou Bunka Neko Musume (Tanjou-hen), was published. "Tanjou-hen" literally means "birth part", in other words the origin or first book. It implies that more manga will follow, but I don't know when. This book includes 7 chapters plus a bonus story, and I believe that is all that ran in Shounen Ace. The chapters originally appeared between Dec. 1997 and Sep. 1998, and the Shin Banneko manga is not currently running in the magazine. Anyway, here are some details about the book, along with a picture I grabbed from a TV commercial.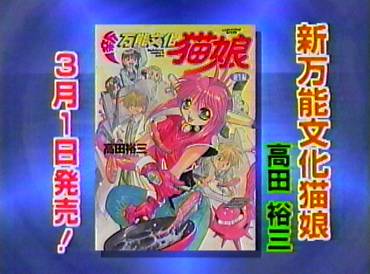 Shin Bannou Bunka Neko Musume (Tanjou-hen)
presented by Yuzo Takada
Softcover, 132 pages, B&W (4 color intro pages), Japanese text
Kadokawa Comics A Extra (KCA-EX 7-1), Kadokawa Shoten, 1999, ¥560
ISBN4-04-713273-X
The book is larger than the average manga volume (it's about 15cm x 21cm), but it is the same size as the earlier Banneko (not Shin...) collected volume from Action Comics (Futabasha). That manga showed Takada's original conception of Nuku Nuku, which is quite different than she is now. The new manga has Takada's "modern" style, as seen in recent volumes of 3x3 Eyes. The new manga has an original storyline, though it does recap Nuku Nuku's origin (similar to the original OAVs) in the first chapter. It is not related to the new TV or DASH! OAV series, though there are a few passing similarities. The plotline isn't very deep (this is Nuku Nuku, after all), but it's enjoyable. Unlike the original manga, there is furigana for nearly all the kanji, so it's not extremely hard to read if you're studying Japanese. I recommend it to the fans; Nuku Nuku is kawaii!!
January 28, 1999
Auf Wiedersehen, Nuku Nuku
I finally picked up the Bannou Bunka Neko Musume DASH! Mode-3 LD this week. This is the final release for the new OAV series. Get this: it's actually GOOD! I know, I'm still in shock myself. I've updated the DASH! review with comments on the latest chapter. Also, the translated Animage review that I mentioned back in November is now available. Thanks go to Kazuya-kun for helping me with the hard parts.
Product Updates
The tables below have been updated with the release date of the final OAV (it was delayed from Nov. 27) and complete soundtrack information. The DASH! soundtrack is out now, featuring the full-size and OAV-size versions of the opening and ending themes sung by Megumi Hayashibara. That's probably the only reason to buy it, since I didn't think most of the BGM was that impressive. I also added an MP3 of the ending theme, and a picture of my plastic Nuku Nuku doll.
This looks like it may be the last Nuku Nuku anime series for a while (though when I said that at the end of the TV series they immediately announced the OAVs). Unless I get inspired to add some more screen captures, I will probably not be updating this page any more. Danke schön!
November 11, 1998
Neko Robo
I can't believe I forgot to mention this earlier. For those who don't know, I work in the Kyoto R&D Lab of OMRON Corporation. About a month ago, I was amazed to see a link to the Pet Robot project on the company home page. Hmm, a large Japanese corporation creates an intelligent robot in the shape of a female cat. Why does that sound familiar? Unfortunately, it's still only a research project, and you can't buy the cat. If you can read Japanese, check out the Japanese page and fill in the questionnaire.
November 9, 1998
Gallerie di immagini
Enrico has a nice picture gallery with artwork from several Yuzo Takada creations, including (you guessed it) the Banneko TV series. If you want to understand the text but don't speak Italian, you can try to translate the page. The images are the important thing anyway.
November 8, 1998
Superschlaues Katzengirl
I decided to buy the Banneko DASH! OAVs on the hunch that it would be better than the TV series. Luckily, I was right. As an added bonus, the LD sleeves have descriptions in German, English, and Japanese (mostly German). See my review of the series, interspersed with the English text from the first LD.
Animage reviewed the first DASH! LD as part of their panel OAV reviews in the November issue. The OAV was rated by 5 reviewers (a format that was copied by Animerica). DASH! didn't fare very well, receiving ratings of 1, 3, 4, 1, and 3 on a 5-point scale. I translated the review, but I need to have somebody else check it before I post it. Still, some of the writers had some harsh comments. I can't say I disagree, but I would give the OAV a 3 rating and reserve the big complaints for the TV series. My favorite quote: "'Nuku Nuku' to yuu yori 'Nuru Nuru'," which means instead of calling the new anime 'Nuku Nuku', [meaning 'warmly' or 'cuddly'], it should be called 'Nuru Nuru' ['slimy']. Ouch!
DASH! soundtrack
There is a DASH! soundtrack in the works, but it has been delayed until January 8, 1999. Maybe they want to try to sell more singles, since the opening theme by Megumi Hayashibara debuted in the top 10 on the Japanese charts. If you want to hear this song, I recorded an MP3 from the laserdisc. You can find it below.
It looks like this will be the only soundtrack album, since it will include both full-size and TV size opening and ending themes, as well as BGM from the series. I guess they had enough of the silly vocal albums with the TV series. I haven't been particularly impressed with the BGM except for one track, so I probably won't buy it. I already have a big list of other anime CDs I want.
100% Nuku Nuku
Kadokawa Shoten has published a Bannou Bunka Neko Musume art book as #33 in their Newtype 100% Collection series. This book is divided into two halves, with art from both the TV series and DASH! OAVs. Unfortunately the only artwork by Yuzo Takada is the pictures he did for the TV series end credits. Still, it's a pretty cool book, and only 1800 yen. The oversized pages are nice (the same size as Newtype magazine), and there are some nice little features like a description of the gags in the TV show. I only wish the OAV series got more coverage, since some of the TV pictures brought back some painful memories.
The Bannou Bunka Neko Musume animated television show was broadcast on the TV Tokyo network in Japan. It ran for 12 episodes, shown every Wednesday at 6:00PM, from January 7 to March 25, 1998. Banneko had previously been animated as a six-episode OAV (Original Animation Video) series from 1992 to 1994. The voice cast of the OAVs returned for the new TV series, including Megumi Hayashibara as the main character, Nuku Nuku.
The TV series was based on a short original manga (comic) series by Yuzo Takada, which has been collected into a single volume. In November 1997, Yuzo Takada began a new manga series titled Shin Bannou Bunka Neko Musume. It is published in the monthly magazine Shounen Ace by Kadokawa Shoten. The manga is not related to the TV series plotline (or lack thereof). The new series seems to have ended, but I don't know how many chapters were published.
The TV series is now being released on video and laserdisc by Starchild, the animation division of King Records. They are also producing several vocal soundtracks for the TV series. Follow the links to the Starchild website (in Japanese) to see pictures for each product.
TV Series Video/LD Release Schedule
Episodes
Date
VHS
LD
Price
Vol. 1
1-2 +TV spot
3/27/98
KIVA-361
KILA-361
¥3,700
Vol. 2
3-6
4/24/98
KIVA-362
KILA-362
¥6,600
Vol. 3
7-10
5/22/98
KIVA-363
KILA-363
¥6,600
Vol. 4
11-12 +special
9/4/98
KIVA-364
KILA-364
¥6,600
The prices above do not include the national 5% Japanese sales tax. All laserdiscs come in gatefold sleeves, even though they contain only one disc. The first edition of the third (not fourth) LD comes with a box for holding all four LDs. The box features special artwork by Yuzo Takada. The fourth LD includes two special episodes that did not air on television.
CD Soundtrack Release Schedule
Title
Tracks
Date
Catalog No.
Price
single
"Fine colorday" (OP theme) c/w
"Oyasuminasai Ashita wa Ohayou" (ED theme)
by Megumi Hayashibara
4
2/4/98
KIDA-158
¥971
CD 1
Bannou Bunka Neko Musume SONGS
Manekigaoka Gakuen Side (My Dearest Friends)
13
3/4/98
KICA-394
¥2,913
CD 2
Bannou Bunka Neko Musume SONGS-2
Natsume Family & Mishima Industries Side
12
4/3/98
KICA-398
¥2,913
CD 3
Bannou Bunka Neko Musume
Vocal & Soundtrack Album
24
6/5/98
KICA-402
¥2,913
After the TV series ended, a new OAV series was announced. The Bannou Bunka Neko Musume DASH! OAVs is also 12 episodes long, with 4 episodes appearing on each video and LD release. The OAVs are also being released by Starchild, and they have the same staff and cast from the TV series.
Banneko DASH! OAV Release Schedule
Episodes
Date
VHS
LD
Price
Mode-1
1-4, 95 min.
9/23/98
KIVA-365
KILA-365
¥6,600
Mode-2
5-8, 95 min.
10/23/98
KIVA-366
KILA-366
¥6,600
Mode-3
9-12, 95 min.
12/23/98
KIVA-367
KILA-367
¥6,600
There is a limited edition of the first LD release (catalog no. KILA-9365), which comes with a box to hold the entire series. Each LD is two-sided CLV, and comes in a gatefold cover like the TV series LDs.
OAV Soundtrack Release Schedule
Title
Tracks
Date
Catalog No.
Price
single
"A HOUSE CAT" (OP theme) c/w
"Shiawase wa Chiisana Tsumikasane" (ED theme)
by Megumi Hayashibara
4
9/4/98
KIDA-165
¥971
album
Original Soundtrack Album
Bannou Bunka Neko Musume DASH! +<plus>
Megumi Hayashibara
27
1/8/99
KICA-433
¥2,913
TV series review - a review in three parts, written while the show was airing on Japanese TV. I also added a quick summary of my current opinion at the end.
Banneko SONGS review/information - a review of the first TV soundtrack, with track listings and other information
DASH! OAVs review - comments on the new OAV series, with pictures
DASH! Animage review - a translation of the review in the Nov. 1998 issue of Animage

The recent TV series has triggered the production of a lot of related goods, like the plastic Nuku Nuku doll shown here. This is similar to vinyl kit models but much cheaper (¥2,000 compared to ¥10,000) and there is no assembly required. Some of the other available products are discussed below.

Some rather unique anime goods appearing lately are laserdisc boxes and clamshell video cases. These are available for the Banneko TV series, with different art than the regular LD box and video cases. I just wanted to mention them so that you won't think you're getting a good deal on the TV series when buying an "LD box" for ¥1500. I believe the box is supposed to hold ten LDs; it's fairly large.

The Bandai website has a page mentioning some Nuku Nuku trading cards, part of their ill-named Carddass Masters series of collectible cards. The cards are available in 10-packs like baseball cards (plus an index card) for ¥330, or hardcore collectors can buy the whole box as shown in the picture. There are 139 different cards, featuring "classic" Nuku Nuku art by Yuzo Takada, TV series art by character designer Seiji Kishimoto, and scenes from the upcoming DASH! OAV series. I got a pack of these cards to check them out, and they are very high quality. Personally I prefer the Carddass deluxe laminated cards, which are available for Nuku Nuku in both "classic" and "TV-style" for ¥100 each (not shown on the website). There are only about 7 different Nuku Nuku cards, so they are easier to collect.

Some zipped WAV files of the TV-size opening and ending themes from the TV series are available at on my Nuku Nuku Music page at Tripod. Enrico has converted these files to MP3s, and they are available in his gallery.

Because I love you guys, here are high-quality MP3s of the DASH! opening theme and ending theme that I recorded off the first laserdisc. Please don't think of this as free music; if you like the song (and it is very cool) please buy the CD release. Plus, you will get the full-length version that way.

If you are looking for information about the original Banneko OAV series, check out the classic Super Catgirl Nuku Nuku webpage. You can also visit the Starchild pages for the re-released OAV 1, OAV 2, OAV 3, OAV 4, 5, and 6. These are the original OAVs released at a new low price of ¥3000 each. OAVs 1-3 were released on Jan. 21, 1998, and OAVs 4-6 were released on Feb. 21. For a complete list (in Japanese) of Banneko releases, check out this Starchild page. The OAVs have also been released with English subtitles by A.D.Vision.

Note: all Japanese names on this site are written Western style, with the given name first followed by the family name.

Bannou Bunka Neko Musume is Copyright © Yuzo Takada / Banneko Production Committee - TV Tokyo
Bannou Bunka Neko Musume DASH! is Copyright © Yuzo Takada / Banneko DASH! Production Committee
This is an unofficial site, and is not associated in any way with the above copyright holders.

Web site produced by David Park.
Last updated: Mar. 1, 1999 8:17AM JST