Lalitha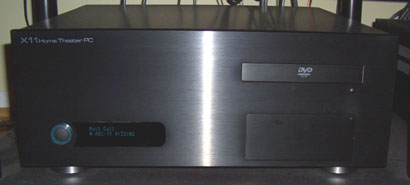 Lalitha is my home theater PC (HTPC). It was first assembled in September 2005, and then rebuilt and upgraded to Vista in the summer of 2007. It was the first new computer that I'd built since Shakti in 1999, and I wasn't surprised to learn that all aspects of PC technology had advanced since then. I did a lot of research online, mainly in the HTPCnews.com forums, and I purchased everything from pcalchemy.com and Newegg.com. Most of the new parts came from those sources as well, although pcalchemy is now out of business.
In August 2010, I upgraded to Windows 7, added some bigger (and seemingly quieter) storage drives, and replaced the old analog Hauppauge plus HDHomeRun combo with a new Hauppauge NTSC/ClearQAM combo tuner. I primarily use the HTPC for two things: recording TV shows (especially movies off of TCM, but also HD network broadcasts) and watching downloaded anime fansubs. Lately I've also been watching a lot of stuff on Hulu.
The case, with built-in VFD and IR receiver, blends nicely with the rest of my home theater equipment, but it's hard to photograph. As software and drivers have improved, and now that I'm connected to my plasma TV with a DVI-HDMI cable, video playback and output quality are no longer an issue. With the latest CCCP codec pack, I can play back 1080p videos, although there seems to be issues with the codecs that cause Media Center to crash occasionally.
Lalitha means "playful, charming" in Sanskrit. Like my other PCs, it is a name for one aspect of Shiva's consort, the Divine Mother in Hinduism.
Case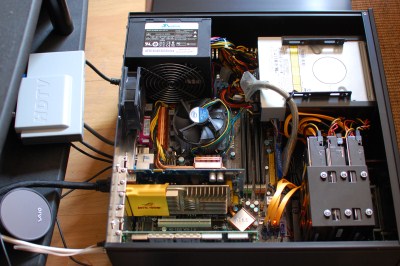 Internals
Intel Core 2 Duo E4400 Allendale 2.0GHz processor
MSI P6N SLI Platinum nForce 650i SLI motherboard
Corsair XMS2 2GB (2 x 1GB) 240-Pin DDR2 800 (PC2 6400) RAM
ASUS EN8600GT SILENT/HTDP/256M GeForce 8600GT 256MB GDDR3 PCI-E video card
Seagate 7200.8 250GB 7200RPM SATA hard drive
(for the OS and some file storage)
two Seagate Barracuda LP ST315005 41AS 1.5TB 5900RPM SATA hard drives
(one for TV recording and one for downloaded videos)
NEC ND-3540A (black) 16x DVD writer
with round IDE cable
Hauppauge WinTV-HVR-2250 dual tuner video capture card
pcalchemy.com Aluminum Internal 17-in-1 USB 2.0 Card Reader
The only components left from the original build are the power supply, DVD drive, TV tuner, and case. The old motherboard, video card, and some of the hard drives were used to build Durga. The new V2 drive cage mounts three drives vertically and has a fan underneath to suck in air and blow it across the drives. It works well, but you pretty much have to remove the whole cage from the case to add or remove drives. There's still room for one more hard drive above the DVD drive.
Externals
I've been really happy with the Logitech remote. It just works. The Sony keyboard is also nice, although a little big for the living room. You can see it below, and the round USB receiver is in the lower left of the picture above. There's also a wireless mouse, but it wasn't interesting enough to photograph. I finally had to replace the original keyboard batteries after a few years. Now there are a lot more options for HTPC keyboards, but I still like this one.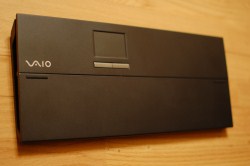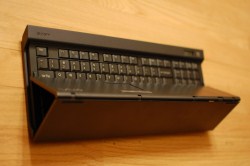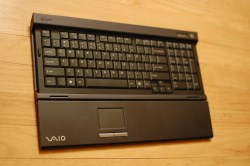 Software
Microsoft Windows 7 Home Premium (32-bit)
Links
---
© David Park
Last updated: Tuesday, March 1, 2011 3:01 AM UTC