A/V Gear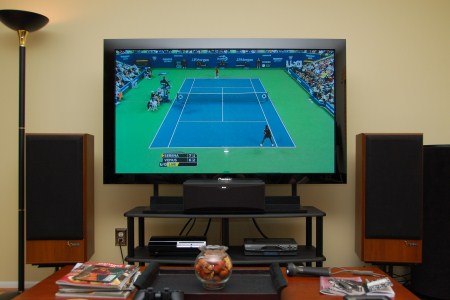 Back in 1990, I purchased a stereo system consisting of a JVC receiver, Pioneer 6-cassette changer, and Infinity speakers. I picked up a Hi-Fi VCR during college, but my stereo was too large to lug around to various dorm rooms and apartments. Then I spent two years working in Japan, but I returned with a laserdisc player and boxes of anime LDs. Since it looked like I'd be staying in the same place for a while, I decided to upgrade to a real home (or apartment) theater system. Ironically, my fancy high-tech system also included a new turntable. That was around the year 2000, and in 2009 I finally entered the HDTV era with a big-screen plasma.
Some minor changes have been made over time, such as replacing my dead PS3 with the newer ultra slim version. In 2015, I began a major upgrade. I replaced the Marantz SR7000 with the latest SR7010 model. After finally entering the HDMI era, I added an Amazon Fire TV Stick and a 2nd gen ChromeCast. My classic Harmony remote was replaced with a new Logitech Harmony Elite. I'm testing an indoor HD antenna to see if I can embark on cord cutting. Next up is a new TV stand (on wheels!) and new speakers. I'll take some new pictures when the upgrades are done.
Video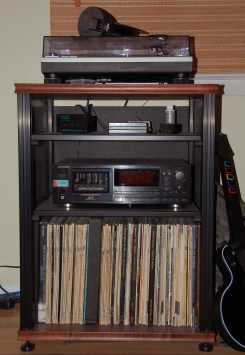 Pioneer PDP-6020FD 60" KURO plasma HDTV
Sony Playstation 3 game system/Blu-ray & DVD player
Amazon Fire TV Stick streaming media player
Google ChromeCast (2nd gen) streaming device
Home theater PC (Lalitha)
Pioneer Japan CLD-R7G laserdisc player
Kenwood DEM-9991D RF demodulator (for Dolby Digital LDs)
JVC HR-S9600U S-VHS VCR
Cox HD cable box

I love the KURO HDTV, which is the last plasma made by Pioneer. The PS3 is also a favorite, although it's used more for Netflix and Blu-rays than games. The HTPC is now running Kodi and NextPVR in anticipation of upgrading to Windows 10 and losing Windows Media Center.


Audio
Marantz SR-7010 digital surround receiver
Technics SL-1200MK2 turntable and Audio-Technica ATP-2XN "disco model" cartridge
Creek OBH-8 MM Phono Pre-Amp
Pioneer CT-M6R multi-cassette changer

Most of this equipment is pretty old, but it still works fine. I like that the new receiver has built-in Bluetooth, but I also use the ChromeCast for music streaming.


Loudspeakers
Infinity SM 112 main speakers
B&W CC6 S2 center channel
B&W DM302 surround speakers
SVS 20-39PC powered subwoofer (serial no. 0009)
AKG K 501 headphones

The Audyssey software in the Marantz is unhappy with my aging Infinity speakers (25 years old!). I was considering B&W L/R speakers, but I may just ditch everything I have and go for an Atmos setup. Either way, this is the next upgrade and should happen soon.


Accessories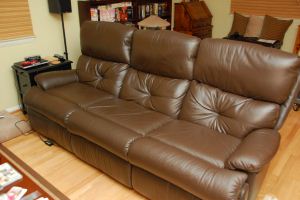 Logitech Harmony Elite universal remote
MonoPrice.com and Acoustic Research interconnects (as well as some other cables)
Monster Cable and MonoPrice.com speaker wire
Vantage Point Euro 3-shelf video rack
Salamander Designs Synergy Single 30 A/V stand
Wood Technology FGH-12E 12" wood speaker stands (for mains)
StudioTech SN-A adjustable speaker stands (for surrounds)
Leslie Dame Enterprises CD-1000B Multi-Media Unit and two LP-140 Laserfiles
Flexsteel Oslo leather reclining sofa

The new Harmony has a couple of issues but for the most part is excellent. MonoPrice is a great source for inexpensive, high quality cables, and I've been spreading the word with my friends to avoid the overpriced $50 cables you find in retail. I'm planning to get a Salamander stand for the TV and video equipment to match the audio stand. The second-best purchase after the plasma HDTV has been the sofa. It's actually three separate sections from Flexsteel's home theater line, which means all three sections recline.


Bedroom System
Sony KV-36XBR400 36" Wega XBR CRT television
Nintendo Wii
Home theater PC (Shyama)
Sega Dreamcast
Sega Saturn (w/mod switch)
Sega Mega Drive 2 and Mega-CD 2 (Japanese)
Boltz BYO-TVX stand for 34" - 36" TVs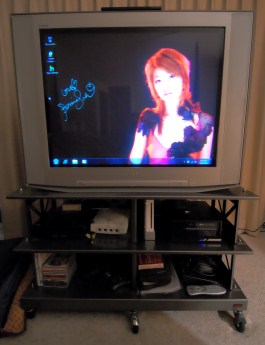 I really don't use this much, but I can't bear to get rid of it.


There are some more pictures on their own page.
---
© David Park
Last updated: Monday, January 4, 2016 9:53 PM UTC